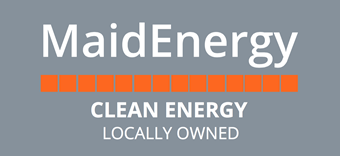 MaidEnergy is a volunteer-led not for profit co-operative committed to cutting carbon emissions and enabling community ownership of locally generated renewable energy.
The volunteer team behind MaidEnergy includes two of the Our Community Enterprise directors, and we have been delighted to support MaidEnergy, both as volunteers and through tendering for development work, over the last 10 years.  
We helped MaidEnergy to successfully bid for funding from the Urban Community Energy Fund in 2017 to deliver a feasibility study around solar and battery storage for commercial sites; and 
2019 saw us work together again as MaidEnergy launched their third and most ambitious community share offer to date. 
OCE provided communications and business development expertise for this time-critical share offer, launched while government incentives were still guaranteed for 20 years and before the plug was pulled on the guaranteed renewable generation feed-in tariff and export price. 
Working with the MaidEnergy volunteer team we supported the share offer including managing the online investor platform and delivering a launch event and comprehensive communications and promotional plan.  The minimum share offer value was exceeded and we are delighted that solar installations are now underway across the area, set to reduce carbon emissions by up to 78 tons per year for the next 20 years.
Recognising the need to plan for their future, the directors of MaidEnergy also commissioned OCE to create a business plan to ensure the sustainability of the organisation for years to come.
Commenting on working with OCE, Ben Niblett, volunteer director at MaidEnergy said: "It's been great working with OCE. They did a very good job promoting our share offer, commissioning an excellent share offer website and getting it delivered rapidly, helping us think through our comms well and then promote them well to get media coverage and good social media content, and to help co-op members tell the community about the share offer. The launch event was excellent and gave us the start we needed. They were good at helping us work out our main messages and who we wanted to reach, and then getting on with doing it, and their excellent local contacts and commitment to clean energy also made a difference. 
They did a good job behind the scenes too – completing our business plan ready for publication, and  administering the payments, pledges receipts, and share documents as the investments came in. 
OCE are also very experienced fundraisers. They successfully spotted the opportunity for MaidEnergy to bid for grant funding for piloting a new clean energy partnership with businesses and universities, and then wrote a successful bid which we were able to deliver. I recommend them." 
If you would like to know more about our work with MaidEnergy or find out how Our Community Enterprise could help you, then please Contact Us